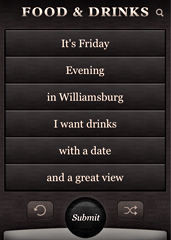 Dearest Brooklyn,
We love you.
We know we don't say it often enough.
And that we spend a lot of nights running around with... other boroughs.
But let us make it up to you.
We promise we can change. Really this time.
In fact, we'll start right now...
Ladies and gentlemen:
The Next Move
—UrbanDaddy's award-winning, gratis mobile app—is now gloriously, righteously and fully operational in the borough that would be the fourth largest city in America.
You know what The Next Move's about. You've had good times using it to find oysters and serious cocktails in Nolita with your mistress. It's essentially like having a UD editor in your pocket, feeding you plans and tips so that your every day and every night is lived to its fullest possibility. (The mistress thing is optional, by the way.)
Well, now the New York version includes the land of the Wythe Hotel and Peter Luger and the Pines and Di Fara and Tørst. Which is helpful if you're one of those people who enjoys spectacular things.
So next time you're jonesing for sausage croissants in a garden in Cobble Hill or head-sized cuts of veal from a grandma in "East" Williamsburg, we've got you covered.
... But don't expect to find a cab.