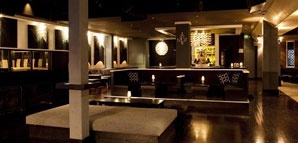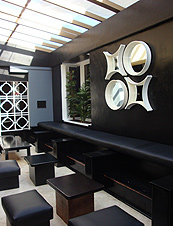 Come 1am, you're not usually thinking about the afterlife… or where that might put you.
You're thinking about hedonism. You're thinking about the pair of eyes locked on you from across the floor. You're thinking about tonight.
And you're doing all that deep thinking at
Halo
, quietly risen like a midriff-baring phoenix from the ashes of White Lotus. The Royalty Rope guys are throwing their grand-opening bash Friday night.
Once again in the hands of the Sunset Entertainment Group, the mammoth location has carved out a classy-looking niche for Halo, with an elegant black, white and blue motif replacing the past-its-prime Asian theme. The stage has moved to the back, making way for a prime VIP area separated by glass from the dance floor below. Think of it like a confessional booth, but with bottle service.
There's also an indoor-outdoor smoking area that now looks like your hip English cousin's terrace, and you can expect to see a lot more foliage around the current entrance/future garden. (This Halo isn't completely polished just yet.) And if you wander into an Asian-y, courtyard-y area to the left that gives you intense flashbacks to your Ritual nights, well, don't expect it to stay that way for long.
And don't walk into the light.