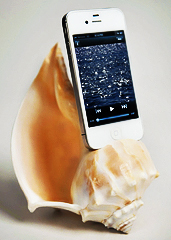 Shells.
Hold them up to your ear, and you've got the ocean.
Place them on a mermaid, and you've got a bikini top.
Put your cell phone in one, and you've got a speaker.
Sure, we'll go on...
Feast your ears on the
Shellphone Loudspeaker
, a semi-genius, semi-weird contraption that started out as a shell and ended up as... a shell that makes music significantly louder, available online now.
Here's what we know. Shells funnel sound. And iPhones do not funnel sound. So if logic serves us correctly: when you put your iPhone inside of a shell... yep, acoustic amplifier.
This'll be a great conversation piece next time you have everyone on your patio for a post-nightcap nightcap. Set it on the table. When someone asks (someone's going to ask), tell them it's a whelk shell from Florida. And that a couple of designers from Minneapolis found it and cut a perfectly iPhone-shaped hole into the bottom of it.
Then, pull up a song. Any song. Say, "Cruel Summer" by Bananarama (or... another song). Start off without the shell. Then place your phone inside of it. The song will immediately become louder. Better. Everyone will clap.
And since it doesn't need electricity, you can use it anywhere. On the road. At picnics. On beach trips.
If you hold a speaker up to your ear...