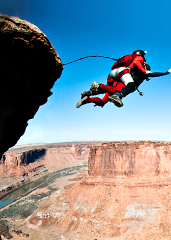 Look down.
Now, if what you're seeing is a stable piece of earth preventing you from plummeting 900 feet into the desert... well, that makes sense. You can't check emails while plummeting.
Also, because you haven't yet met these guys:
Put your sanity on hold for
Moab B.A.S.E Adventures
, the only place on earth where you can (legally) tandem BASE jump from a cliff with no prior experience, accepting willing parties now.
So, BASE jumping: B is for
buildings
. A is for
antennae
. S is for
span
(aka bridges). E is for
earth
. And jumping is for Mario Richard—the guy asking you to dive face-first with him from some very elevated surfaces. He's done over 2,000 BASE jumps and 7,000 skydives, so... you've got nothing to worry about, statistically speaking.
First, meet Mario in Moab. He'll lead you to the cliff and explain what's about to happen. Then, he'll secure you to his chest, approach the ledge and give a countdown before going all Wile E. Coyote toward the canyon below. Oh, and he'll release the parachute so that you can glide majestically back to earth and not die. There's that part, too.
If you're already a seasoned BASE jumper, you should know that they offer the only course in America where you can learn to solo jump from a cliff.
And that your insurance premium is about to skyrocket.