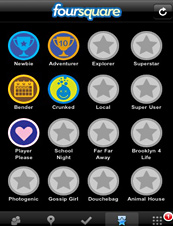 Going out in this town has always been a bit of a game.
And we've always been curious what would happen if someone started keeping score…
Welcome to
foursquare
, a much-buzzed interactive competition—and social network of sorts—that makes you Player 1 in the never-ending glorious game that is New York nightlife, available now.
Think of foursquare as a new way to turn your penchant for five-day benders into a badge of honor (literally). You start by signing up online, then you get on to adding friends and "checking in" (by iPhone app or just by text) whenever you do something glorious in the realm of nightlife (like throwing back a few oyster shooters at
the Palace
).  
You'll be awarded points every time you go out, and given badges for accomplishing grand feats. There are 16 badges for now, ranging from the aforementioned
Bender
badge (awarded when you check in a few nights in a row) and the
Animal House
badge (if you're always going out around NYU) to the avoid-at-all-costs
Douchebag
badge (when you just happen to regularly drop by places tagged as "douchey").  
You'll be alerted of any friends nearby and given tips from your inner circle on the place you're visiting. But your real goal here is to get to the top of the leaderboard, look down at all your friends below and gloat in your new status as the king of nightlife.

Long live the king…