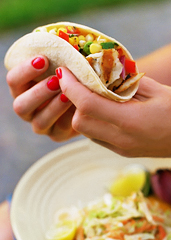 Every time Ford Fry opens a restaurant, an angel gets its wings.
Every time Ford Fry opens a food truck...
Well, that's kind of uncharted territory.
Stick around until Friday, though. You're about to... chart it.
Calibrate your tracking devices for the
People's Food Truck
, a brand-new roaming restaurant filled with all manner of chef Ford Fry's steak tacos, rum cakes and donut sandwiches, rolling out on Friday at Atlantic Station.
Okay. We've established that Sir Fry is doing the menu. But we haven't established that it's owned and operated by a local nonprofit organization called City of Refuge. So after you finish your rum-soaked tres leches this Friday, pat yourself on the back. You'll be eating that for the people.
And you'll be eating that out of a truck covered in watercolor-style images like smiling fish, alarm clocks and teapots. Don't try and figure it out. Just show up and start ordering
pork-shoulder tacos and fried-chicken sandwiches
with grilled Sublime donuts as buns. Wash it all down with some spiced rice milk or Mexican Coke. Smile. Say "Ahh." Weep for anyone who isn't you.
As far as
tracking them down on Facebook
goes, expect them at all the major food truck parks eventually. But for now, they're mainly focusing on doing events.
Which works out, because you're mainly focusing on going to events.