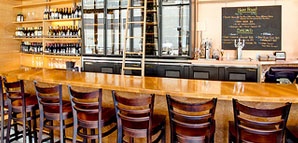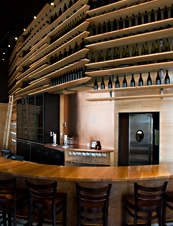 In the shadow of the Staples Center, a new sport is brewing.
Call it competitive leisure. 
Corkbar
, a soaring new wine bar, opens Thursday.
They're going for friendly and unfussy here—think of it like your best friend's new loft if, in terms of décor, your best friend favored the use of cork and lots of empty wine bottles. (And really, why shouldn't he…) Unlike most dark wine bars, it's an open-all-day kind of place on the corner that you'd actually want to visit when the sun's still out, considering two of the walls are basically nothing but glass, both of which look out onto two patio spaces. (Not often you get a tan with your Pinot Noir.)
Grab a spot at a communal table—all the better to get to know those around you looking for a little 4pm buzz—and start working your way through the California-focused list. Assisting you in your journey are eclectic small plates like a
Rib-Eye Steak Sandwich
and, for dessert,
Banana Bread Pudding
.
Let the games begin.