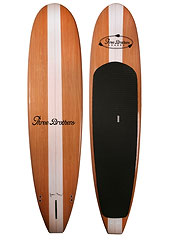 Ah, the '60s.
A decade of peace, love, understanding, sexual discovery, rampant experimental drug use and really nice-looking paddleboards.
Hey, we should totally go ahead and relive some of that.
Specifically, the really nice-looking paddleboard part.
Wade into the waters of
Three Brothers Boards
, a Daytona-based line of handmade, handsome, vintage-style stand-up paddleboards, available now.
Picture a longboard crossed with the Brady Bunch's family station wagon. Okay, now imagine a little less paisley and a lot more wood paneling. Yup, that's this. Hand-shaped stand-up paddleboards fashioned after those classic woodies used in every '60s surfing movie. But... without the actual wood. They use fiberglass. It's lighter. Less splinters.
You can nab one from their website or just give them a call. Tell them what you want (something that floats and looks damn good while doing so), and two days later, you'll have your board. Plan your upcoming beach parties accordingly.
Oh, and these guys also make a whole bunch of accessories to go with your new board. Things like cargo-net cup holders, aircraft-grade-aluminum paddles and a shoulder strap for hands-free board transport.
Music to your paddleboard caddie's ears.