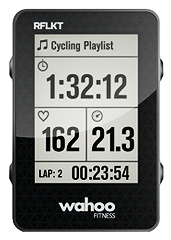 And now, a quick PSA:
Using your phone while barreling down a hill on your bike is dangerous.
You know, because you might drop it and break it.
...
Good talk. Good PSA.
Also, a good time to talk about the
RFLKT
, the world's first iPhone-powered bike computer that mounts to your handlebars, syncs with your cycling apps and lets you stream your entire music library without ever touching your actual phone, available now.
It's a bike computer that runs off your iPhone. Couple of local guys created it. It's simple. Sturdy. Can take a beating without malfunctioning.
So grab one online. And the next time you go for a ride, mount this thing to your handlebars and open their cycling app (it's set to sync with other cycling apps in the near future). Then just toss your phone in your pocket. The data from the app automatically syncs via Bluetooth, so you can mark intervals, check your heart rate and listen to
Now That's What I Call Biking-Friendly Power Ballads: Volume 2
all without ever taking your phone out of your pocket.
And don't worry about getting caught in the rain or going off-trail. This thing was tested here in the city, so it's certified to work through any weather and over any terrain.
Still might want to watch for potholes.