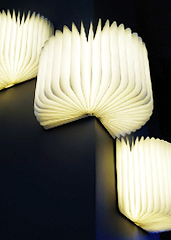 Here's the thing about nighttime:
It's dark.
And when it's dark, you know what that calls for...
Yep. Book that doubles as a lamp.
Anyway, here's one of those. It's called
Lumio
, and it's the next big thing in fake books that open up to become real light sources, available for preorder now on Kickstarter.
This is just kind of one of those things. You don't
need
it per se. But owning a faux hardcover that opens into an accordion-like, portable nightlight just seems like the next logical step in carrying out a proper existence.
It's sort of really nice-looking, too. All design-y and subtle. Which means it would be perfectly acceptable to procure one of these, toss it in a bag and jet off to a dark and clandestine location for some type of after-hours picnic scenario. Preferably with someone who loves that kind of thing.
And then, when the moment's right, fill some wine glasses, delicately arrange an artisan cheese tray and... open this book light. It'll emit a soft glow. It'll kind of look like candlelight.
It'll definitely need to be closed if that artisan cheese tray does its job.
Artisan cheese plays.