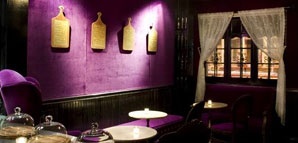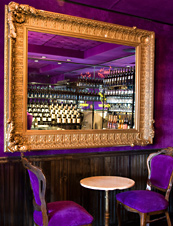 The right dinner spot is crucial for a good date, but not as crucial as what you've got in store afterward.
A nameless wine-soaked spot the size of your bedroom—and the color of Prince's—sounds about right. We'll go ahead and dub it
The City's Smallest Wine Bar
, quietly opening Friday.
A sign-free hideaway sandwiched between the Delancey and
Mission Cantina
, this is a very small (and, it must be said, very purple) room encased in velvet that'll seat about a half-dozen couples, max
.
Drop into a pair of grape-colored antique chairs and start working through some Napa reds—this month, the focus is on wines from a few hours north, but you can expect the selection to refresh by the time you bring in your next date, and the one after that…
The owner will tell you it's technically Delancey's wine room, but it has its own entrance, and you can mix and match wines from both lists to create your own flights. Overall, it's not what you would've expected from the man behind the Bowery…
But it should help lay the groundwork for your favorite after-after-dinner spot.