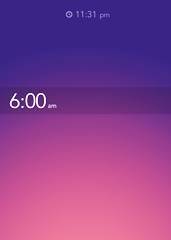 Wild guess: you woke up this morning.
A buzzer buzzed. A rooster crowed. A door slammed. Keith Richards found you under a table, poked you with a stick and called two very muscular gentlemen to escort you out.
The point is, it wasn't particularly pleasant.
So tomorrow, open your eyes to this:
Rise
, an elegantly simple alarm clock app for iPhones, available now.
Setting the alarm is easy. Just a few up-and-down flicks of your finger select the appropriate time you'd like to awaken. The alarm can be anything from the gentle jangle of wind chimes to the chirping of birds on a summer morning. Or you can get aggressive with an old-fashioned alarm clock or a funky beat called "Dance Club Dream." Of course, that one is not advisable if you often dream of dance clubs—or sleep in them.
Now for the other half of the equation. Getting to sleep. With just a few more flicks of your finger, you'll be able to create a custom playlist to gently guide you into your dream world. You can set it to play for as long as you think you'll need it before nodding off.
Just don't mix it up with your workout playlist.