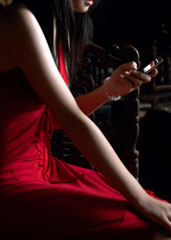 Last night wasn't easy.
Juggling dinner plans. Juggling gifts. Juggling special someones.
Maybe next time try monogamy.
Or maybe next time try using this...
Slyly say hello to
Text Fortress
, an app for password-protecting your most incriminating text messages, available now for iPhone.
This is like a bank vault with retina scanners for your phone. Sort of. It's really just an app for keeping your secret correspondence a secret. So maybe it's more like a fake mustache for your phone. Either way, it's the kind of thing Tiger Woods could've used circa 2009.
Now, before you send another text, go forth and download this. Make sure whoever you plan to covertly communicate with downloads it, too (ah, there's the rub). Then, just pull up the app, type something salacious, lock it with a password and hit send. The person on the receiving end will get an innocent-looking link. Only, you know, it's not.
Oh, and you'll be happy to hear this thing also works for emails. So whatever you want to share—interoffice solicitations, Machiavellian scheming, dogs wearing funny hats—it's all kept hidden from prying eyes.
Great, now you can stop shredding your phone.