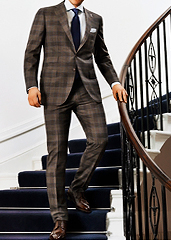 There are those things that come to this town in the most fleeting of manners. Playoff appearances. Bipartisanship.
And definitely roomfuls of artisan Italian suits, shirts and shoes in downtown hotels. Short-lived, those are.
So hurry up and say hello to
Otto
, a collection of top-tier Italian finery, popping up only through tomorrow at the St. Regis.
You may not be aware of these folks. That's understandable. They've got only one showroom, and it opened in London last year, complete with steam room, massage table and humidor. What you'll find in their suite at the St. Regis: well, not that stuff, but they've got good coffee.
Also: two rooms of some of the nicest Italian cotton, cashmere and leather you'll ever drape across your shoulders and horn your feet into. The kind of stuff that will make your existing suits and shoes feel meek and insecure.
Their secret: teams of Italian artisans who hand-stitch almost everything in here—the lambskin blazers, the shirts with matching pocket squares, the fully bespoke suits that will come back to you in six weeks, even the cashmere hoodies and sweatpants.
When you go out for the morning paper, you do it in style.