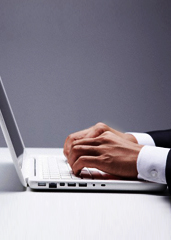 Anonymous...
Yup, that's exactly what you want to be today.
Because you're about to tell someone what you really think of them.
Perhaps your boss.
This is
Tell Your Boss Anything
, a service for sending totally untraceable messages (brilliant ideas, criticism, potentially disastrous solicitations) to your coworkers, online now.
Every now and then, you've just got to get something off your chest. In total secret. Without the fear of reprisal. Well, this is the website for that. The built-in messaging system lets you send strongly worded emails to whoever you like, all while safely masking your identity. Which means yes, you can finally stop corresponding in cutout magazine letters.
So the next time you're considering doing something career-threatening over email, just pull up this site instead. Click "send feedback," enter your recipient's address and start furiously typing. Go ahead, tell that VP that their breath smells like something less than roses.
And that's it. You're done. The message will go directly to the recipient's email and they'll be given the option to reply.
Hopefully you didn't sign your name.