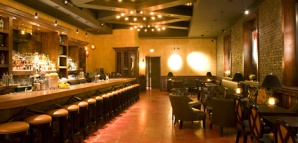 The universe of cocktails is vast and deep—but you've cut a pretty wide swath.

Now you want something new, something special...something that might not have even been invented yet. Odds are you'll find it at Copa d'Oro, opening Wednesday in Santa Monica.

Stroll in for a seat at the bar, and on the counter you'll see a spread of kumquats, grapes, sage, thyme—whatever's fresh from the farmer's market that week. Tell the barman your poison of choice, along with what looks good from the counter, and he'll work with you to craft something special on the spot.

You wouldn't trust just anyone with such an endeavor, but this team is headed by the famed Vincenzo Marianella, late of Providence and the Doheny—so you might even agree to let them throw in some bell peppers or wasabi. Of course, if you're just in need-booze-now mode, there's an actual menu of lower-fuss specialty concoctions, and some tables against the other wall if you want more room for your PB&J on Pressed Pound Cake or Warm Nutella with Almond Butter.

And as for the bar's name—it refers to a nickname for our state flower (poppies, for the record) and translates to "cup of gold."

But you might just bestow it upon your new drink.