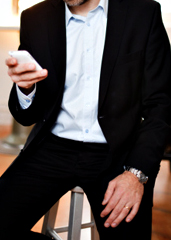 2013...
A whole new year. A whole new opportunity for making resolutions.
Like training for a marathon.
Or climbing a mountain.
Or getting up from your desk chair for like two, maybe even three minutes at a time.
Here to help:
StandApp
, an iPhone app that interrupts your workday with reminders to stop being so sedentary and do the occasional desk squat (yup, that's a thing), available now.
Okay, maybe you don't need an app to remind you to stand up. But then again, it's midafternoon, and you've only gotten up once. And that was just to swap out your chair for a more comfortable one (you love a good shiatsu massage before lunch). So it's possible these guys are on to something.
To get started, just download this thing and select how often you could use a little break—from every 15 minutes to every two hours. Then get back to doing whatever you were doing... 2012 earnings wrap-ups. Q1 projections. Untagging yourself from scandalous NYE Facebook photos... whatever. Meanwhile, the app is counting down the minutes to alert you when it's break time.
And when break time hits, a screen will pop up with some desk-appropriate exercises (like lunges, stretches or taking a few laps around the office) and a corresponding instructional video.
Oh, so
that's
how you walk...