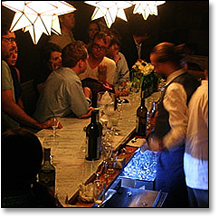 Sure, gas prices are plummeting and sample sales are everywhere, but we've been waiting for a market correction in an area that we can really get excited about for some time now. Like booze.
Well, the wait is over and we have some breaking news. And it comes from the Sasha Petraske (the legendary barman behind Milk & Honey and Little Branch) front—
White Star has gone the way of Milk & Honey, only you don't have to run a sting operation to get in the door and the hooch doesn't hit the wallet quite so hard.

What this means to you: The dark, wooden tiny slip of a cocktail den where you've been going to try and get drugged up on absinthe will now be the home of another slew of M&H-caliber cocktails. We're talking about the simple classics—three bearded experts behind the bar just cranking out perfect

Caipirinhas

and Gin Rickeys over some hand-cracked ice.

All of this gives you a new place to dig in, drink and wait for the winter weather to pass.

Speaking of winter weather, you might want to ask for the off-the-menu Sea Fizz—we won't ruin the surprise except to tell you that it smells and tastes like the ocean (except, you know, drinkable).
 
And considering the weather outside, a beach getaway in a glass sounds perfect right about now.