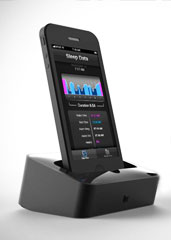 Your alarm clock.
You hate it.
It's loud. It's obnoxious. It... never makes you coffee in the morning.
Adjust your eyes and behold
Lumawake
, a genius of an iPhone dock that tracks your sleep patterns to gently wake you at just the right moment (oh, and start the coffeepot), available now for preorder.
It's possible you've already got an iPhone dock. And that's fine. But you don't have this thing. It's got infrared sensors that watch you sleep (it's much less creepy than it sounds) and compile data on your rest cycle so it knows precisely when to wake you up (typically around noon).
Order one online, and when it arrives, use the app to input your preferred wake-up time window and select a few power ballads (the Eagles usually do the trick) to serve as the alarm. Then, go to sleep. In the morning, at the optimal minute, you'll be woken by a simulated sunrise. And the soothing sounds of "Desperado."
Oh, and if you've got one of those fancy home automation systems that controls all of your appliances (you'd know if you did), this thing can integrate with it to perform simple tasks. Like turn off your TV when you fall asleep. Or start your coffeepot when you wake up.
You've still got to put in the whiskey yourself, though.