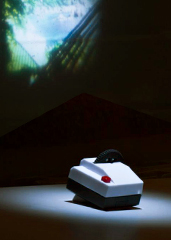 This Thursday, you're going to be around some people who want to take your picture.
They may come out of the bushes. They may yell your name repeatedly. They may ask you to do things like... pretend to cut into the turkey again because they missed the shot.
Your mom can be really aggressive.
Anyway, that reminds us: there's big news on the photography front...
Meet
Projecteo
, a thumb-sized contraption that projects all your most prized Instagram pictures onto a wall, taking preorders now for delivery in early 2013.
This thing looks like a Polaroid camera... that got in the way of Rick Moranis's shrinking device in
Honey, I Shrunk the Kids
. It's basically a fully functioning film projector that fits in the palm of your hand.
So back to Thanksgiving. You'll do your thing—eat some turkey, take a nap, teach your cousin to throw a spiral. And you'll take pictures as you do your thing. (Your cousin's spiral: breathtaking...-ly wobbly. But it's getting there.)
Sometime later, you'll upload the pics to Projecteo's site (via Instagram). For every nine shots, they'll create one 35mm reel of actual, honest-to-God film. Then they'll send you the reel(s), along with this projector, right to your doorstep. At which point you can start planning the centerpiece of Thanksgiving 2013: a presentation of last year's highlights, projected onto the nearest available wall/screen/side of a building.
Warning: the cornbread-stuffing nostalgia will be intense.