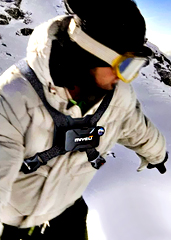 Space-jumper Felix Baumgartner really inspired you this week. Now you're determined to follow his fearless example.
So the next time you do something reckless, death-defying and utterly heroic... you're also going to wear a first-person camera to record every second of it.
Here to help make that happen:
Miveu
, a body harness that turns your iPhone into your own personal dashboard cam, where your chest is the dashboard—available now.
The ingenious thing here is that it snaps right onto your iPhone, without much effort. There's a special glass that fits over the lens of your camera to create a wide-angle view. Then just strap it on, and you're ready for action.
Obviously, this is what you'll be wearing when you join the international parachuting circuit. Or enter the national snowboarding championships. Or the third presidential debate. (Helmet cams can look so very undignified.)
But think of the Halloween possibilities. Sure, its body will lend a certain air of authenticity to your Felix Baumgartner (or Darth-Vader-meets-Steve-Jobs) costume. But its actual function means you'll be able to effortlessly video all mayhem at haunted houses, pet cemeteries and costume parties.
Plus, anyone who tries to steal your candy is totally busted.