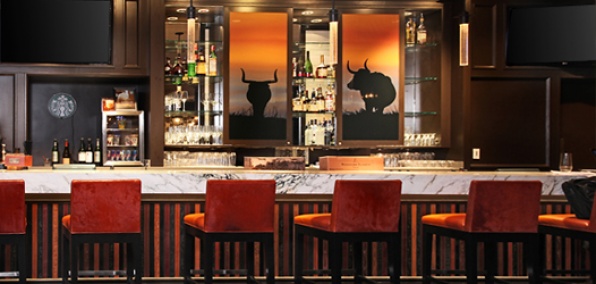 The hotel restaurant.

It serves its purpose.

Like business meetings. And business drinks. And taking office flings from "fledgling" to "wildly inappropriate."

Or, you know, eating steaks.

So here's Grain, a farm-to-table restaurant sporting all kinds of red meat and white fish, now open inside the Park Cities Hilton for breakfast, lunch and soon (like October 22 soon), dinner.

You're familiar with the whole seasonal/locavore thing. Well, that's what you're working with here. Meat, fish and cheese. Sourced from places like Deep Ellum. And served in a cozy little setting with a bunch of dark wood tables, wrought-iron partitions and leather chairs.

So maybe you'll come here for a red-meat power lunch. Or a bourbon-y power drink. Or both. You'll start at the white marble bar and claim a burnt orange stool. Plus something from Rahr or Franconia. Then move to the dining room and take a seat in a high-backed chair. Order a 20-ounce rib eye or a less-ounce redfish, or just go with the surf and turf. You're not above compromising.

And hey, nightcaps. Those are things you've been known to enjoy in or around hotel lobbies. For that occasion, they've got barrel-aged cocktails here. Like the Vieux Carré (rye, cognac, vermouth, Bénédictine and bitters). And a Manhattan made with corn whiskey. You love corn whiskey. A lot.

In fact, maybe the two of you should get a room.