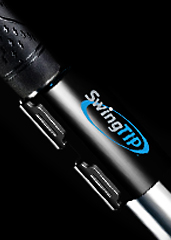 The Ryder Cup.
It was a real downer.
As we see it, you have two options.
1) Quit golf (and golf spectating) completely.
Or: 2) Start training even harder, so next Ryder Cup, you can finish the job yourself.
Cue the theme music from
Rocky
...
And behold
SwingTip
, a pocket-size swing analyzer that will keep your golf game sharp during the off-season, available now.
Not much bigger than a thumb drive, this little device snaps inconspicuously (it's nearly weightless) onto the top of your clubs. Internal sensors measure your swing speed, clubface angle and sweet spot and beam the data to your phone.
From there, you can review an animation of your backswing to get a sense of how your body is moving, view video tips from PGA golf pro Ray Leach and even compile a list of your best swings.
Feel free to ship one directly to Jim Furyk.