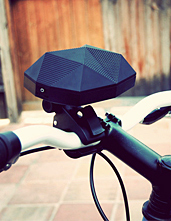 Maybe you're going spelunking in Sri Lanka soon.
Or night swimming with a pod of whales in the Azores.
Perhaps you'll even ride your bike down to the store for some pickles. Or a pimento loaf. (Hey, just spitballing.)
The point is this: you'll be needing music...
This should do:
The
Turtle Shell
, a wireless sound system that's not only water-resistant, shockproof and can pretty much be mounted or clipped to anything... but it also looks like a turtle shell. And if all goes well on Kickstarter, it'll be on your doorstep next month.
It's a portable Bluetooth speaker. That's essentially what this thing is.
But when you factor in its ability to hold a charge for up to 10 hours, the fact that it can be mounted onto a bike or a tripod and has no problem whatsoever with being rained on... suffice it to say, it's the one you'll want attached to your handlebars during your next mountain biking pilgrimage through... some mountains.
Or attached to your cooler at a tailgate. Or around your neck while parkouring (or not parkouring). Just link it up to your phone or any other tasty lick-dispensing device you have lying around and you're good to go.
It's shaped like a turtle shell, too. So there's that.