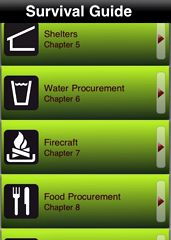 Well, we're coping, surviving, dealing.
Yep, the end of stone-crab season hit us pretty hard.
Also: Tropical Storm Isaac.
And sure, we got off pretty light on that one, but hey, you can never be too prepared.
For storms. For stone-crab withdrawal. For anything.
Enter
Survival Guide
, a military handbook app that'll help you survive if you're ever stranded in a storm (or the Gables), available now for the iPhone.
So yeah, you never know. And should you somehow find yourself in the middle of the Everglades with nothing but a flask full of scotch and a pair of cufflinks, you'll now know what to do.
Because what you have here are 19 chapters of the
U.S. Army Survival Manual
in one handy little app
.
And it's loaded with tips for making it through a really tough situation. Like natural disasters or Thanksgiving dinner with in-laws. You'll learn the basics: how to make soap from animal fat and ashes. Booby-trapping your sleeping area against poisonous snakes. Extracting water from roots and vines. (Water into wine: you're on your own.)
But say you're at an '80s dance-off and your spandexed teammate's attempt at the running man has suddenly gone horribly wrong. Your move: the Basic Survival Medicine tab, which apparently includes advice for setting a dislocated bone joint back into place.
Makes you wonder what the Deluxe Medicine tab looks like...