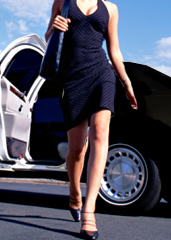 It's 2am. Outside a Henderson Avenue watering hole. And you're ready to head home.
This could go one of four ways.
1. You walk.
2. You fight for a cab outside J. Black's.
3. Jetpack. A long shot, but still...
4. You summon a fleet of black sedans with a single text message.
Considering #3 is more of a weekend thing, let's discuss option 4.
Meet
Uber
, a new on-demand car service that'll drive you wherever you want to go at a moment's notice, beta-testing now in Dallas.
Imagine an army of Morgan Freemans from
Driving Miss Daisy
. That you control with your phone.
To start, you'll download this app. Then, sign up with your name and credit card number. Now, next time you're deep in Downtown/at the airport/turned around in Knox/anywhere and need a ride, fire off a text message or use the app to request a pickup.
The app's GPS will hone in on your location and dispatch a town car. You'll be able to track the car's movements in real time. Also, you'll be able to see the driver's name (though we're pretty sure they'll all answer to Raoul).
And once you've been scooped up and charioted to point B, just say thanks. Because the fare and tip are automatically charged to your account.
To be clear: not an actual chariot.