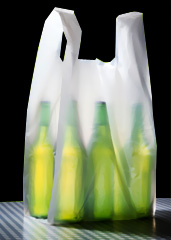 We're lovers. You know that. But every now and again, something comes across our desks that just seems... suspicious. Because of the tremendous material upside to all our lives if these claims pan out, we at times put ourselves in harm's way to investigate. Albeit skeptically.
We call it: Skeptical Investigation. (Trademark pending.)
THE CLAIM

That you can visit this site (
Booze Carriage
), click some buttons and have beer or liquor arrive anywhere from the Battery to 116th Street in an hour or less. And because they're sourcing from local shops, beer delivery is available 24 hours a day.
THE INVESTIGATION

9pm.
Monday.
Our steadfast UD lab technicians are parched after a hard day's labors. They jump on the site and fill a virtual liquor cart with 18-year scotch, añejo and a brut champagne (it was a triumphant day in the lab). Then they fill a beer cart—a case of Sixpoint Righteous Ale, a bottle of Rogue Juniper Pale Ale, some ping-pong balls and playing cards, and four five-pound bags of ice, just to make 'em sweat.
THE VERDICT

Beer and liquor orders have to be separate because of state law (not much of an inconvenience since they weren't really
doing
anything). And the selection right now is wanting a little. But both orders arrived in 30 to 40 minutes, balls and ice included. Survey says: success.