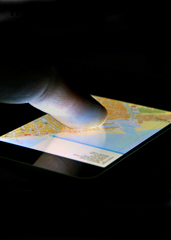 Look, we know you're not perfect.
Far from it, actually.
Let's see: sometimes you slouch. You occasionally say "That's funny" instead of laughing. And don't even get us started on your punctuality.
But since you already got us started on your punctuality, allow us to make a suggestion...
Show up on time.
That, or download this app that automatically tells everyone where you are and when you'll be arriving.
It's called
Twist
, and it deploys science (okay, GPS) to track your whereabouts and send text updates to anyone in your phonebook, available now for iPhone (and soon for Android).
This is just like hiring a personal assistant whose sole responsibility is sending your friends texts all day. Texts about when you left your house, what street you're on and when they can expect to be graced by your presence.
Download the app, hit "New Twist" and type in the name of your destination (Uncle Sal's Lobster Roll and Tilt-A-Whirl Emporium, for example). From there, click on the names of the people you want to notify (your entire phonebook is already in there) and that's it. Just drive.
This thing will automatically text your friends along the way, telling them how far out you are. And yes, they'll still get a text even if they don't have the app. And any pics you decide to upload. And a map showing your coordinates. And...
Anyway, they'll know you're coming.