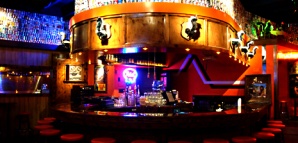 You take your drinking seriously, but that doesn't mean it always has to be so...serious.
 
Sometimes you just need a cold one under the smiling gaze of Burt Reynolds...and the calming mist from a skunk's backside. Welcome to Stinkers Truck Stop, soft-opening Thursday.
 
The latest from Bobby Green, the man behind your nights at Bigfoot Lodge and Saints & Sinners, this one's a ridiculous-on-purpose ode to all things '70s—from the mustachioed Reynolds headshot to the 5,000 vintage beer cans lining the walls that Green scored on eBay. If you just want to hear a tab pop, order your can from the cooler and head to the back corner (under the neon-lit "Trucker's Lounge" sign) to hole up for the night. But if a beer's not going to cut it, you might be interested in a vodka-based root beer float called the Large Marge, or a Silver Lake Lemonade spiked with Jack and SoCo and served in a mason jar.
 
And if you start hearing voices, that's just the bartender on the CB—they want to get the crowd riled up for the piece de resistance. One yank from the cord behind the bar and you'll find yourself under a row of skunks mounted the wrong way...that are suddenly spraying odorless mist from under their tails.

Thereby redefining the term "drunk as a skunk."