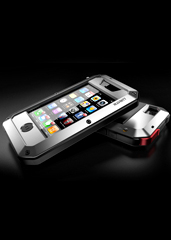 When you come to those life-defining moments, there are certain excuses that just won't fly:
I overslept. The dog ate my homework. I couldn't call because someone shot my phone. And then dropped it in a puddle.
Before you get nervous about that last one, take a look at
Taktik
, a gorgeous new iPhone case that just happens to protect your phone from anything short of molten lava, accepting orders now for delivery in August.
This is the kind of indestructible, no-excuses case that Eastwood would... actually, Eastwood wouldn't even have a cell phone. Jason Statham in
The Transporter
—now
he'd
have something like this.
And what this is is basically layers of anodized aluminum, silicone designed to withstand a 9mm impact, a compression liner to prevent water from getting in and a layer of something called "Gorilla Glass" over your display. (If only Charlton Heston had this stuff.)
Of course, should your phone go up against a bulldozer and survive, you'll want to tell someone about it. So you'll pop open the aircraft-grade aluminum seal over the headphone port and get to talking.
Note: you may want to register your phone as a weapon in some states.