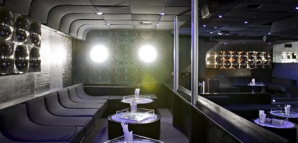 You've always considered your dance moves a sort of...higher calling.
Now you might have some company.
Hollywood's new green-minded lounge Ecco, soft-opening tonight, would like you to believe you're saving the world by hitting their dance floor.
 
Just pull up to the former home of Tokio—if you're driving a hybrid, there's no charge for the valet. Once inside, everything you'll drink, eat, see or dance upon is probably recycled, salvaged, free-range, energy-efficient, paperless or waterless...but you'll probably care less about the organic wallpaper than the organic gin.

The idea is to come early for some Dolphin-Safe Tonnino Yellowfin Tuna Croquettes and Tempura Tofu with Udon Noodles, and then, when the music turns up, stay late for a few drinks like the Alter Eco, heavy on that organic gin, or the Absinthe-Minded. That one might make your trip to the central dance floor a bit more hallucinatory...but they swear it's organic absinthe (who knew), so we're pretty sure that makes consumption more noble.
 
Consider tonight a sort of sneak preview if you're in the neighborhood—otherwise it'll just be private parties for a couple more weeks while they complete the finishing touches. But if your social schedule doesn't open up for a while, it'll open to the public in November.
 
Plenty of time to get your dancing a bit more energy-efficient.