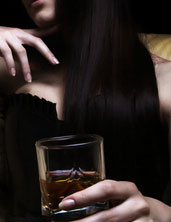 Don't blink.
For the next 96 hours.
Or do. We don't want to be responsible for you going blind.
It's just that... there's this bar. This magnificent bar. It opens Thursday...
And closes forever Monday.
Introducing
Bar Alto
, a Negroni-partial pop-up that'll only be in existence for four short days, starting Thursday in the Sound Table's Space2.
To put the brevity of this thing in perspective: its life span is about 0.000001% of the typical bar's. In other words: if you don't go this weekend... you'll be forever damned to rely on hearsay.
Hearsay about how some designers flew in from London and immediately set to building a bar in the Sound Table's event space. How the bar was made almost entirely out of wine crates, and French Picardie tumblers were levitated everywhere. It's magic. Also, probably wires.
And it's all part of Modern Atlanta (that citywide design event/soiree). So swing by after you've toured enough rooftop gardens to make yourself thirsty. The bar will be in the back. Your drink options: Negronis.
Yes, Negronis. Period.
See, besides a few beers and wines, that's all they'll be serving. In seven different varieties. Think: pre-batched Boulevardiers (bourbon, vermouth, Campari) and a smoked number that's mixed with mezcal.
Smoke 'em if you've got 'em.