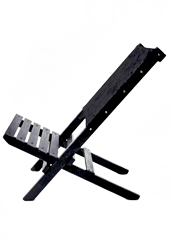 This weekend: big plans.
The kind of plans that'll take you over vast swamplands and across county lines.
A convertible may be involved.
A beach will certainly be involved.
But first, you're going to need some essentials. Like chairs. And a table.
And you'll need them all to fit into one tiny travel bag.
Because, well, you've got to leave a lot of room in the trunk for beer.
Presenting the
Aether Beach Folding Chairs and Table
, a sleek and rugged patio set that folds down to fit inside a single tote, available now for your beaching needs.
Leave it to the outdoor-apparel experts at Aether to come up with the single greatest innovation in seaside furniture since the chaise lounge (yes, it's that sort of life-changing).
So here's the deal: the chairs and table are made of ash hardwood and rust-proof stainless-steel hardware (i.e., they're margarita-spill resistant). Also, the fabric on the seats and bag is fashioned from reclaimed army tents—which means it's seen/can handle conditions much more hazardous than your Memorial Day barbecue.
When not in use (it's raining or there's a hammock handy), the entire thing will quickly collapse down into the accompanying bag. So, you know, you can easily store it until the next summer beach weekend.
Or first Dolphins tailgate.