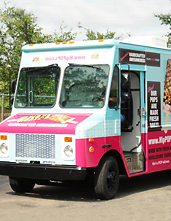 So long, Mister Softee.
It was a nice run.
It was a terrible jingle.
But the era of king cones and chocolate eclairs is over.
From now on, all curb-purchased ice cream will come from one truck and one truck only.
And that's the one with the pistachio-studded chocolate-chipotle popsicles inside.
Presenting the
HipPops Handcrafted Gelato Bars Truck
, a rolling fortress full of gelatos, sorbets and frozen yogurts... on sticks, cruising around the tri-county area as we speak.
It's 86 degrees out today. It was 89 degrees out yesterday. Clearly, ice-cream-truck season is upon us. So you'll be happy to hear that there's been a major development in frozen-dessert technology. It's basically a DIY gelato shop. On LSD. On wheels.
You'll want to track this thing's location on Twitter. Keep your eyes peeled for the teal-and-hot-pink caravan. Once you've flagged it down, your first order of business will
be choosing a flavor for your pop
(think mojito/green-apple wasabi/the kind of things Ben & Jerry fever-dream about). Then, decide if you want your pop dipped in chocolate (you do). And finally, pick your toppings (you can't go wrong with crushed pretzel).
Of course, if that all seems like too much work, you can just order one of their preconceived masterpieces. Our suggestion: a whipped-cream-laced frozen hot chocolate pop.
No, they won't spike it.