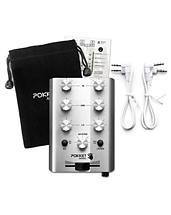 A few reasons you may be celebrating today.
You just netted $71 million on your 0.0000001% equity stake in Facebook.
Diane Kruger made eyes at you at Cannes.
It's Friday.
Whatever the case, you need celebration music.
Here to help with that:
Pokket Mixer,
a scaled-for-your-pants sound mixer that kicks out (and subsequently lets you micromanage) the jams from anything with a headphone jack, available now.
It's a foregone conclusion: you're going places this summer—places like BBQs and pool parties and the wedding of the Treasury secretary's daughter. (Remember to tell him how much you liked his position paper on economic expansion in Micronesia.) Places where the music would be a lot better if you had your say.
That's where this thing comes in. It's a five-ounce alternative to the modern DJ booth. Plug this into the headphone jack of basically any MP3-playing sound system and turn the knobs to adjust the bass, highs, lows and treble. Obviously, you'll want to transmit the sound to your headphones first so you can check your levels.
Yeah, we don't know what exactly that means, either.