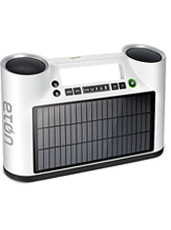 The pool.
The beach.
The resurrection of that clown-head sprinkler thing from third grade.
It's all happening.
More specifically, it's all happening in your very immediate, very bronzed future.
And by default, so is music. You'll need Buffett. You'll need Marley. You'll need...
A solar-powered Bluetooth sound system that looks like Johnny 5's head from
Short Circuit
.
Enter the
Etón Rukus Solar
, a new piece of fully portable, summer-ready hardware that wirelessly streams your phone's playlist all day using nothing more than the sun you're already under, available now.
Think of this as the more practical, less... questionable alternative to setting up a DJ booth on the beach (and with about 100% fewer wires). Or by the pool, by the grill or wherever else you feel like filling the air with the adult contemporary musical stylings of John Tesh's Skrillex remix (it's new).
The point is, you can take it anywhere.
No, really. It's got a handle. And it's also got a 40-square-inch solar panel embedded into the side, the ability to hold an all-day charge with six hours of sunlight and two full-range speaker drivers.
Not to mention a charging port for your iPhone.
You really outdid yourself this time, sun.