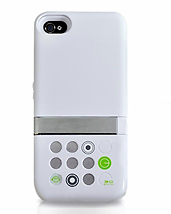 Big weekend ahead: you're debuting your seersucker sombrero.
So we just want to make sure you're prepared.
Prepared for when your phone dies and you're stranded at a weird party wearing a seersucker sombrero...
Presenting the
Rechargeable iPhone Speaker Amplifier Case
, a clever device that charges your phone while pumping out some much-needed bass, available now.
This case basically turns your iPhone into a music-blaring boom box with a built-in subwoofer, a 1500mAh battery and a chrome kickstand (ideal for watching Jay-Z videos or dropping
Words with Friends
knowledge at a 45-degree angle).
So this Saturday, you'll be gearing up for your Cinco de Mayo Derby party (Cinco de Ponies). As you turn on the queso fountain and set out your to-scale jockey ice sculptures, you get a text. It's the mariachi band: "Our tour bus broke down in Austin, lo siento."
That's when you'll grab this guy. As the horse race starts, you'll quickly compile a Santana/Jay-Z/
Seabiscuit
soundtrack. Then, as the horses cross the finish line, you'll prop this on its kickstand and hit play. As the subwoofer projects off the dance floor, the celebration begins.
Also, great for drowning out elevator music.