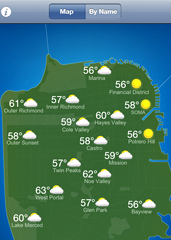 Wear layers.
Walk on the sunny side of the street.
Wait five minutes.
Warm up with bourbon. Lots and lots of bourbon.
All valid, time-tested strategies for surviving our unpredictable weather...
Here's another:
SF Climates
, a locally born app for your iThings that gives the city's forecast by neighborhood with a ridiculously detailed map, available now.
Now, you don't
really
need an app to tell you it's normally sunny in the Mission and not in the Sunset. But this eliminates the guesswork for what's happening right now in 17 different neighborhoods (sorry, "microclimates"). Also, it fits in your pocket.
Let's say you were looking for the warmest possible place to grab a quick lunch outside. (Crazy idea, we know.) Load this thing up. Behold, a ludicrously detailed version of a meteorologist's map, detailing precisely what is happening in each neighborhood of SF at that exact minute.
Your move: getting more specific by tapping your prospective lunching locale on said map. Let's say you're deciding between the Outer Sunset and Hayes Valley. You'll see the current temp and windchill, and then make the call for cocktails at Outerlands or a few steins at the Biergarten.
You could also, like, call a friend or something.