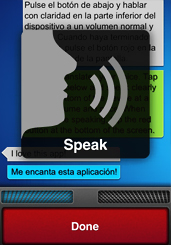 The Boston Marathon. Feels like it was just last week.
Oh, right, it was. Along with about a billion foreigners saturating our streets. Which offered primo opportunities for transnational fraternizing, had the language barrier not put a stop to that.
Don't worry, you'll be ready next year.
Presenting
SayHi Translate
, an app that's like keeping a UN translator—or perhaps Rosetta Stone—in your pocket, available now for your iPhone or iPad.
So fast-forward to next year's race. You've got your plot of concrete at the finish line secured. A strangely well-concealed half-keg sits beside you. Through the crowd, you lock eyes with a tall German clearly suffering from a general lack of dunkelweizen (beer is a universal icebreaker).
Instead of limiting your conversation to pointing at her plastic cup and then at your keg, you'll open up this app and select the English-to-German translator. Then, just say what you'd like translated and tap the red button, which will convert your words into the mother tongue of your new friend (note: cheesy one-liners are still cheesy in other languages).
And because you're always on the move to some faraway place, it's configured for 23 languages (yes, Mandarin is one of them). It's even designed to accurately differentiate dialects within the same language.
Which means you can finally understand people from Scotland.