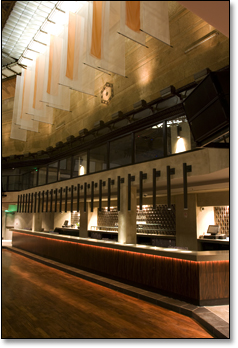 Ah, the megaclub.
So wrong, but every now and again, so right. And maybe just what you need to blow off a little steam, rub up against some strangers and party like it's 1999.
Introducing
Versus
, a four-level, 22,000-square-foot monster opening Friday (with perfect timing) in the old
Los Angeles Stock Exchange building.

Versus is, more than anything, massive. Giant brass doors—restored to their original 1930s luster—open to a winding marble staircase. Make your way upstairs to the second level and you'll find a huge dance floor lined on one side by a forty-foot Brazilian walnut bar where you can survey the scene: a wraparound balcony for bottle service, a foyer bar for a quick drink on your stopover to the fourth-floor VIP lounge (holding a scant thirty of your best friends) and a martini lounge that greets you on the ground level just because.
 
Here you can have a drink, smoke a cigarette (yes, you heard right, they have a special permit) and admire your reflection in an indoor pond. Music will range from live acts—?uestlove, Dave Navarro and TV on the Radio are all on the docket—to DJs spinning everything from house to hip-hop.
 
In other words, the selection is vast.