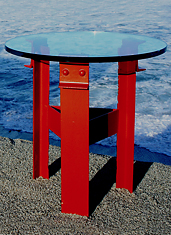 Emblem of our city.
Modern engineering marvel.
Lamp.
Yes, someone's turning the Golden Gate Bridge into lamps...
Welcome the
Golden Gate Furniture Co.
, a crafty local outfit transforming a stockpile of 100 tons of steel handrail pieces from the bridge into home furnishings, taking orders now.
Think of the bridge as the tree from
The Giving Tree
, only in vermillion orange steel form and unsentimental.
Essentially, there's a guy named Rick. He has a thing with the bridge. And he makes furniture. So he put two and two together and can make you anything you want out of bridge scraps. He'll do easy stuff like headboards and tables, or you could challenge him with wine racks or umbrella stands—but probably not a rocking chair.
Since it's the actual steel from the westernmost side of the bridge that's been bracing against the open ocean since the '30s, it's fairly weathered. So Rick finishes each piece off with a few coats of paint. He even uses the official Sherwin-Williams International Orange industrial-grade acrylic/enamel that's used on the bridge (remember, he has a thing for the bridge).
Eventually, his cache of Golden Gate sections will dwindle, which means that he will be sad. Also, he won't be able to make more bridge furniture.
But hey, there's always the Bay Bridge.