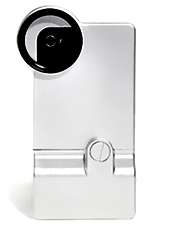 A svelte seductress stopping on the street to adjust her shoe.
Plastic grocery bags dancing in a gust of circular wind.
Fenway Park.
Beauty is everywhere. And it's time your camera phone was ready to capture it at the professional level.
Introducing
Turtle Jacket
, a super-pack of digital camera goodies, available now to bring your iPhone to Henri Cartier-Bresson levels.
So let's say you're strolling through the Common and you spot a metaphor for the human condition itself (in two ducks fighting over a hot dog, no less). Instantly you realize: you need to capture this digitally on your phone.
That's where this comes in. First, you'll snap on the included aluminum case, which can attach to any basic tripod for pro-grade stability. Then, you'll screw on the UV filter and wide-angle lens (which will help you capture the Canadian goose doing the funky chicken in the background).
And because you never know what
else
you'll see around town, you can attach a strap and sling your phone over your arm while you carry on with your day.
Just remember to disassemble before the board meeting.