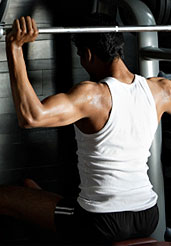 The good news is you just did three sets of curls, 10 reps each.
The bad news is that it was with donuts.
Might be time to change up your summer-body strategy...
Here to help is
A Man's Guide to Muscle and Strength
—a comprehensive new fitness app that's like having a personal trainer in your phone, available now.
If your real trainer just jetted off to make sure J. Lo does her crunches in Brazil, just download this thing for about half the price of a kale-and-flaxseed smoothie. It's got three different six-week programs focused on classic weight training—so you won't find yourself standing on one foot with a hula hoop and a Shake Weight.
If you're not sure how to do one of the exercises, fear not: there are more than 100 instructional pictures, and a bunch of videos that play in regular speed and slow-mo. So if you just need a little on-site help tweaking your bench-press form, this will help with that, too. (Step one: find a bench.)
There's also a built-in photo log, so you can record the weights you're moving alongside visual evidence that it's paying off.
What you do with those pics is pretty much your call.