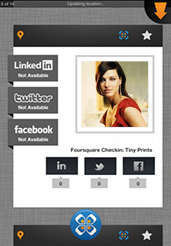 Picture a crowded room.
A party, let's say.
Hundreds of people are there. Heads of state. Software tycoons. Rick Astley.
Yes, these are fertile networking/Rickrolling grounds.
The problem: you have no idea who's who.
The solution... check your phone.
Behold the Big Brother-y powers of
WeLink
, an iPhone and Android app that automatically detects and displays everyone around you who you need to meet, available now.
Think of this as the smartphone version of planting a tracking device on every person you didn't know you needed to talk to at an event. And the kicker: they don't even need to have the app in order to pop up on your phone.
So basically, every time a person with the same interests as you checks in on Foursquare (science knows... it just knows), they'll become visible in the app, along with their LinkedIn profile, Facebook page and Twitter feed.
Meaning that the next time you find yourself glad-handing your way through the annual white-tie ball at the Piedmont Driving Club (or black-bikini ball at the pool), you'll be able to retire to the nearest fondue fountain/cabana, pull up the app and see who you really need to be talking to.
Rick Astley can be a slippery sonofabitch.