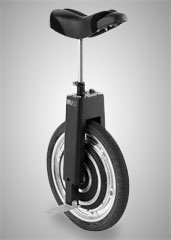 God, it's gorgeous out today. Again.
It's got you thinking of warm-weather activities. Hang gliding. Stock car racing. Prancing.
And no matter what your chosen pastime is, we can all agree on one thing: it's perfect unicycle weather.
Oh hey, look at that...
Presenting the aptly named
Self-Balancing Unicycle
, for hands-free, pedal-free electronic unicycling around town, available now.
To get your head around this thing, just imagine your average unicycle. Now, give it a Segway-esque internal balancing mechanism that makes 1,000 balance calculations per second for smooth riding over uneven terrain (read: Charlestown). Finally, give it motorized brakes and acceleration, all powered by a rechargeable battery (thus solving a small part of the foreign-oil-dependency problem).
So picture it: you're late for work. Parking downtown is of course a nightmare. That's when you'll pull this thing from your closet, push the blue button on the top of the motor and be merrily on your way (even in Beacon Hill... It can handle 30% grades).
If you're a little wobbly the first few times out, you can even attach special training wheels to give you added balance while scooting hands-free to the office.
Still, texting and unicycles should probably be kept separate.