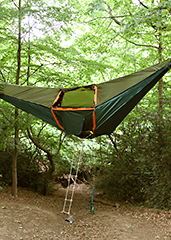 Tents.
There are lots of different types. And yet, they all require the same thing to work: the ground.
Until now.
Behold: the
Tentsile
, a hammock-filled tent that hovers in the air, available for online orders now.
Think of this as the complete opposite of that tree-leaf shanty Tom Hanks used in
Cast Away
(and the one he
insists
on using every time you two go camping). Handmade in the UK using spiderwebs as inspiration, these can hold up to 2,100 pounds—all without touching the earth.
Now, a few caveats. One, it'll take them six to nine months to make one for you. Two, they're pretty expensive (starting at nearly three grand). Three, it'll take at least 30 minutes (and a couple of well-placed trees) to set up. But if none of that bothers you, consider this your new go-to sleeping arrangement when camping in the Acadian forest. (With or without a camping harem—they hold up to 12 people.)
And because you'll be hovering a few feet off the ground, you won't have to worry about small floods, sandstorms, rocky terrain or poisonous snakes.
Still, keep an eye out for bears.