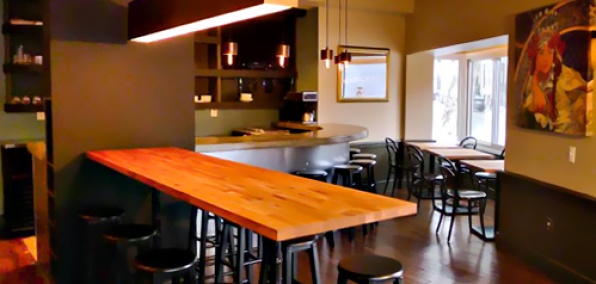 Today, we'd like to turn your attention east. Nope, not sake-and-sushi east. Not even vodka-and-fixed-elections east. Back it up a bit.
Yup, that's it. By now, your finger should be resting squarely on absinthe-and-pilsner east.
Say hello to
Bistro Bohem
, a casual new Slavic-themed date spot, soft-opening next week just in time for your very own Prague Spring.
This is the kind of European corner bistro where Angelina might have sized up Johnny Depp. The dining room: cozy. The bar: tiny. The big table in the middle: communal.
Once you've taken it all in (it won't take long), you'll get started on a pint of Czechvar Lager while you mull over the
menu of Eastern European specialties
, like beef goulash, pierogies and potato pancakes stuffed with chicken.
Don't settle up the check just yet, though. Not while there're cocktails like the
Absinthe Gin Fizz
and the
Bohemian Margarita
(gin, mead, lemon juice) to try.
In the first few weeks, you'll want to arrive early to grab a seat in the window. But come spring, you'll have a few more options (and a lot more room) as they unveil a 25-seat patio, as well as an all-day coffee shop and European bakery next door.
It's about time someone invented the absinthe-uccino.