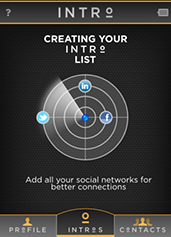 Gorgeous.
This weekend was just gorgeous: blue skies, gentle breezes, the sneaking suspicion that cardinals were flying in perfect formation just for you. Really something.
And in other news: that business idea of yours—the one Branson and Cuban are fighting a bidding war over—is about to take off.
So it's time to get serious and get in touch with the right people.
Here to help:
Intro
, an iPhone app that searches all your social sites to find the next great business contact for you, available now.
Think of this as a networking party in your pocket—and the invitees are scoured from your and your friends' friends from Facebook, Twitter and LinkedIn. (Also: no awkward moments figuring out how to eat from your hors d'oeuvres plate with a glass of wine in your hand.)
So back to your venture: Zipcar for blimps. The business plan: complete. The funding: in the bank. The spokesman: Mr. Burt Reynolds is in. The blimp pilot: ... still undecided. That's when you'll need this.
You'll import your contacts from all your significant social networks (sorry, no Myspace). Once they're all synced, you'll enter in what you need: in this case, pilots. Hit search, and this thing will comb through all your networks and find what you need. At that point, you can contact them through the social site or this app if they're signed up.
You knew there was a reason you friended Sully.