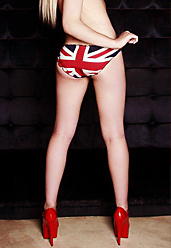 You remember the royal wedding.
The splendor of young love. The grand pageantry of a future queen walking down the aisle. The hats.
Come to think of it, only one thing was missing:
Her distant cousin burlesquing her way into your heart...
Here to correct that oversight:
Katrina Darling
, Kate Middleton's cousin and one of the UK's very finest burlesque artists, performing in the states for the first time ever on March 13 at W.i.P. in SoHo.
So, meet Katrina: upstanding young Barclays banker by day, provocative dancer by night. Imagine Kate and Pippa Middleton dancing in their knickers (go ahead, take a minute). Okay, now imagine their second cousin doing the same thing. (Apparently, the monarchy thumbed through the Magna Carta, found nothing about distant relatives making their living in the, uh, more naked professions, and granted its tacit approval.)
Now, you may have some hazy memories from previous trips to the Dropout parties at W.i.P. They probably revolved around contortionists straddling rocking horses and androgynous rock bands playing in a small basement. This'll be just like that, except between two bands will be the main event: Katrina, suggestively dancing to the Sex Pistols, revealing some strategically placed body art of the queen...
God save her.