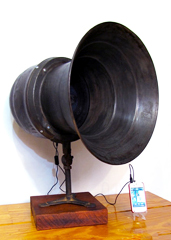 Occasionally, in the course of human events, it becomes necessary to play your music at extreme volumes. The kind of volumes that cause people to take cover for blocks and blocks.
Obviously, what you need: an air raid siren that plays music.
Presenting the
AustinModern Air Raid Siren Speaker
, an actual museum-quality World War II air raid siren, cleverly repurposed to amplify your stereo, computer or iPod.
This is exactly the kind of thing you want to have at the ready when you really need to broadcast a Churchill speech to a large room. Fortunately, it also works well for dubstep, disco and AC/DC. (But we hear that LMFAO will break it. So don't try.)
The geniuses who created this thing started with the original steel siren, waxed and sealed it for posterity, added a power amp and a headphone jack, and mounted it on a slab of mahogany.
Of course, this will make a handsome addition to your home on its own. But you could also hold it aloft playing "Ride of the Valkyries" anytime you really need to make an entrance. Or give it to the DJ next time you rent a hangar for a party.
Note: actual air raid not included.